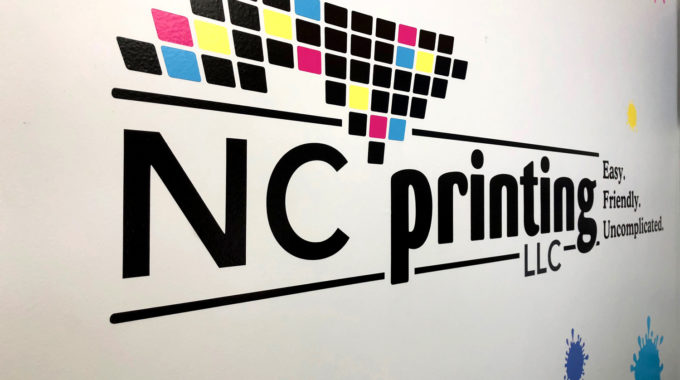 When we first dipped our proverbial toes into the sea of large format printing, our media salesperson starting telling us all of the groovy things we could do with our slick new hardware and I'm not gonna lie…it was eye opening (and a little daunting). He wanted to sell us lots of materials. Obviously. The thought of being able to do wall murals seemed pretty interesting and that's really what got the ball rolling. We started experimenting. We tried different materials on projects around the office…some were great…and some fell off the wall. We didn't use the ones that fell off the wall. 
We discovered that the options for wall graphics are limited only by our (or your) imagination (and the availability of tall ladders).
Since then, we've produced and installed a wide variety of wall graphics for quite a few businesses. Some temporary and some not temporary. We have several on our own walls, as you can see in the photo above. Do you want a huge wall mural for a dining area? Would you like to see your logo on the wall behind your customer counter? What about small seasonal promotional signs you can remove without damaging the wall or paint? We've done it all.
Wall graphics are pretty awesome and can REALLY enhance your showroom, office, conference room, or any space where you want some pizazz for your customers or employees. The above photo is printed and cut vinyl with no laminate since it is for indoor use and not going to be abused (unless someone throws a stapler). Of course if you need more durability, protective overlaminates are available as well.
What about material options?
I'll make this pretty easy for you….
1. Permanent material
2. Removable material
I bet you thought it was going to be complicated. The substrates we use exhibit phenomenal print qualities and can be cut to any shape you need so no need to worry about any of that.

Here's an interesting photo of a wall mural at the Asheville Airport using the removable material: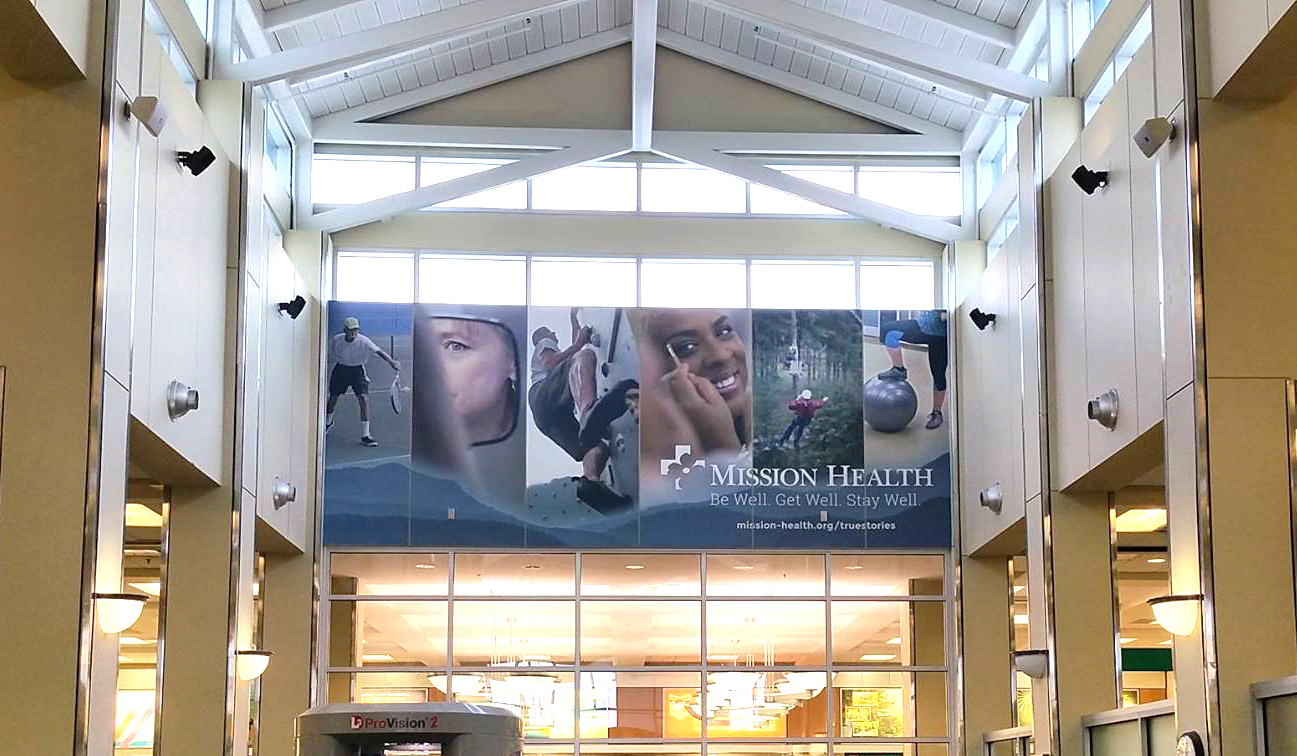 Yes…it's big. Very big. And not at ground level. (Did I mention I'm afraid of heights?)
There are a few things to discuss before you pull the trigger on a giant wall graphic. Give us a call and we'll be more than happy to guide you through the options to make your wall pop! Or better yet, stop by and talk to us so you can see and touch them for yourself!
-Neil
blog@ncprinting.com